Scanning
Depona digitalises all types of physical information-carriers and is especially distinguishable where high technical requirements are placed on results and efficiency.
We are specialists in scanning drawings, maps, technical documentation, books and punch cards, microfilm and micrfiche in all formats.
We also scan all types of photographs and film negatives as well as X-ray film in the highest possible resolution.
We will help you with digitalising your physical material into the desired format with the absolute highest quality.
Depona offers a complete solution where we take care of the entire digitalisation project under our own auspices without the use of sub-contractors.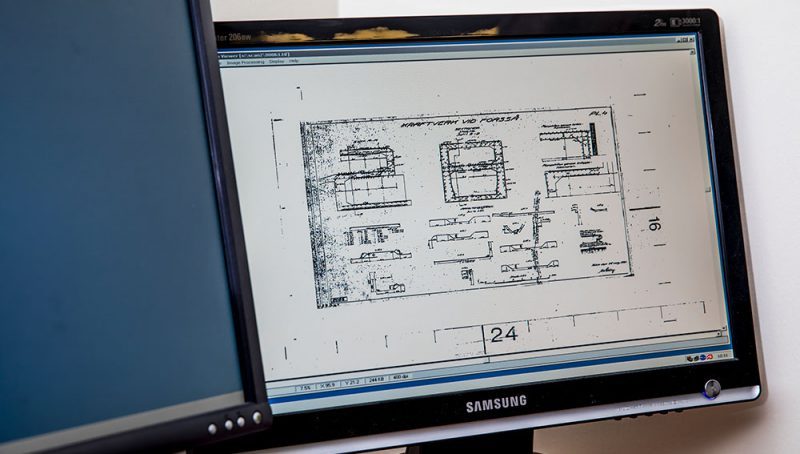 Some of the services that may be of interest in connection to your digitalisation project are described below:
lanning and project management
Archive consultant to prepare documents (sorting if necessary) in your own premises.
Packing
Transportation
Preparation prior to digitaisation
Digitalisation of all known formats of drawings, documents, microfilm media and photographs
Digital archive in a secured server environment
Software for drawings management
Physical archive administration
Backup via permanent backup copying and archive administration of digital files on COM film (Computer Output Microfilm)
You are free to choose which services you wish to use.
With the help of our system developers, we are able to create customised solutions that satisfy the goals and visions for your future information management.
As a supplement to our own software, we collaborate with a number of developers of digital e-archives and programs for drawings management. We collaborate to choose the most advantageous solution.
We take care of the archive digitalisation of a number of consultancy firms and companies within the construction industry.
Depona has extensive knowledge, many years of experience and the technical capacity for all types of assignments.
Contact us in order to receive assistance with any questions you may have.
We look forward to assisting you with your archive project.